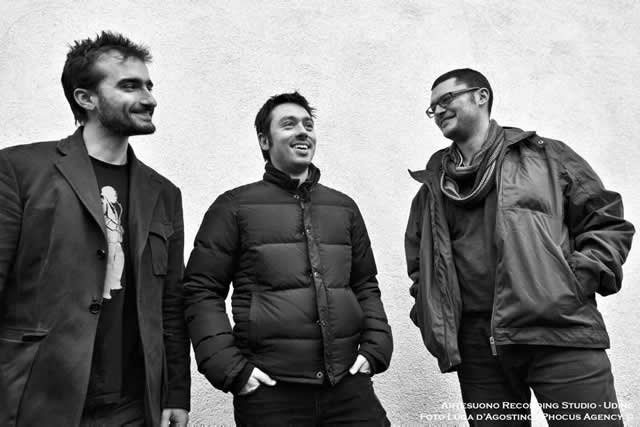 Saturday, May 24 at the piano School "Silence" in Maglie (Lecce, Italy) will be held a special musical performance by Francesco Negro Trio, during which the musicians will share the development and maturing of their creative process with an audience of 15 participants. Video recording of the performance will be shared with the public from 26 to 30 may on Francesco Negro's official website www.francesconegro.it .
The Trio, composed by Francesco Negro piano, Igor Legari d.bass, Ermanno Baron drums, came at the end of a creation and rehearsals period for the production of new works, finds itself in an intimate and  listening place to consecrate a leg of its route, giving rise to a unique performance.
Francesco Negro Trio has recorded a cd, "Silentium" (second publication in Negro's discography), published by Alfa Music in 2011 and distributed by Egea, recently distributed in HD in Japan. The disc had considerable critical and audience hits, getting great feedback from specialized critics like the label "Jazzit Likes it" on Jazzit magazine with a review of the Publisher Luciano Vanni.

Francesco Negro "A ductile, casual, pleasant, harmonious Jazz that, according to the times, may remember the piano trio's pianism  of some great Afro- American keyboard such as Keith Jarret and Enrico Pieranunzi, on one hand and Don Pullen  and Abdullah Ibrahim on the other. A Work that runs, from first to last note: remarkable evidence of awareness ". Marco Maiocco

"Francesco Negro trio was set up in 2009, in the classrooms of the International Jazz Master Programme of Siena. This was a unique environment that allowed us to play with some of the most renowned and highly appreciated musicians in the world. Our musical journey continued on stage, with long rehearsal sessions in the silence of the countryside of the Salento region of southern Puglia, and in the studio, where we were surrounded by the frenzied and hectic energy of Rome. Improvisation is a part of our personal history and the musical tradition that we feel we belong to and that we always draw upon with a sentiment of profound respect. For us improvising is a profound necessity as well as an act of true awareness. It is the search for a complete feeling of belonging to the present moment, because it is only in the present that music can take place, even when it has already been recorded and is then played back. Our intention is to break the barrier that sometimes separates musicians from their listeners, and to seek a shared balance and equilibrium between the two. About two years ago I had the great pleasure of starting to share music with two great friends and musicians: Ermanno and Igor. We then started out on a journey in the world of sounds that led me to see music from a different perspective: that of the silence of sounds. Silence seems to secretly conserve the true meaning of music, of which it has been emptied. Silence is often banally considered to be only the absence of sound, but in fact all sounds overlap other background sounds and silences, and so, if we listen to silence, we can hear the most natural music of the world. If silence is painted upon the canvas of silence, then one is on the right track, because one has the key for listening to the music of the soul."
Torna in alto